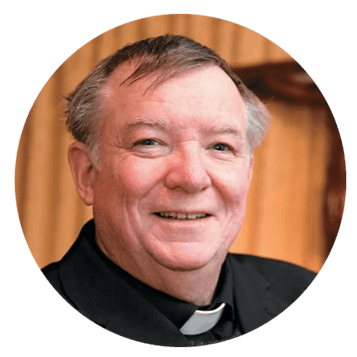 Those of us of a certain age remember the wrestlingon TV. So, like a tag-team, Fr Des and I will swop over on Monday! As a parish, we have journeyed together these grace-filled months, as we loved Fr Bob into eternal life and carried on his great legacy through lockdown and beyond.
I have been privileged to be at St John Fisher and you will always have a special place in my heart. I thank you for the kindness, encouragement and support of me. I am especially grateful to Tina for all she has done for Fr Bob, myself and the parishioners generally. My thanks also to Ina for her secretarial skills and to everyone who works behind the scenes to keep the Church going. This includes, during these extraordinary times, the ministry of patient waiting that Sue and the Choir,the Music Group, the Altar Servers, Eucharistic Ministers and Readers are currently engaged in. We all look forward to sharing in your gifts in due course.
I express my admiration too, for our many parishioners who work in the NHS, care professions and as other Key Workers, for your contribution to the city and wider community. Together with our stewards and cleaners-we could not manage without your generosity. I assure you of my prayers and ask you to remember me as l begin at St Joseph's Canley and the Chaplaincy at Warwick University.
Fr Peter Conley